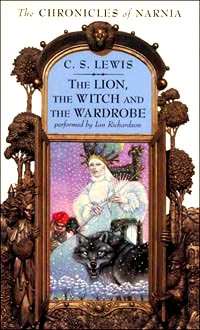 Last week boys and I finished our very first chapter book,
The Lion, The Witch And The Wardrobe: Book Two (The Chronicles Of Narnia)
by C.S. Lewis.
I wasn't sure how it would go since my boys tend to struggle with scary concepts. These are the same boys who think "Finding Nemo" is scary.
However, using my experience reading House by Ted Dekker & Frank Peretti , I remembered that hearing something read to them is much different that watching something on TV, so I went for it.
Andrew totally got into it. He listened intently each night and I think it just about killed him to end the chapter and stop for the night. I think AJ enjoyed the book as well, but wasn't as captivated as Andrew. The trickiest part was C.S. Lewis' run on sentences. Something that seems fine reading to one's self, but get's a little rough reading aloud. And of course, some of the terminology was over their head. I found I occasional had to change words to help it make sense.
Overall, the boys loved it and it sparked good conversation between them and myself about Aslan and how he is like Jesus. And we are like Edmund…. poor traitor Edmund.
But now I need help. I've read the whole Chronicle of Narnia series a while ago and but was most familiar with The Lion, the Witch, and the Wardrobe and figured it was okay for my young boys. I don't remember how appropriate the rest of the books are. Are they similar in nature or should I wait until the boys are older to read the next ones? Or do I just need to re-read them myself to make that call? Thoughts?
While I think AJ is ready for more picture books again, I do see more chapter books in their future.