Well, this morning was a very bittersweet morning in our household. Actually it started last night (or even this whole week if you really think about it). You see, today is the day that our Rocky finds a new home.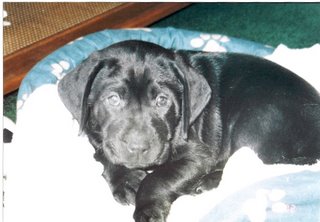 We've had Rocky since he was a mere 6 weeks old and now he is a beautiful four-year-old black lab. A good dog he is…very good. And very pretty. In fact, he was like a child to Marc and myself for a couple years. That is, until a real child came along. Believe it or not, there was actually a time during my first pregnancy that we were worried that we may not love the new baby as much as the dog. I know, it sounds super crazy and you are rolling your eyes, but I was hormonal and we didn't really know at the time what we had gotten into with the whole parenting thing yet.
Well, slowly and steady (ok, more like a smack in the face), our attention was instantly diverted by this new being that we were instantly responsible for. Unfortunately, the attention was taken from our Rocky. A Rocky that lives for attention. Good or bad, attention is his lifeblood. After two years of dwindling attention (and guilt for that) and realizing that it is not going to get any better when this new baby comes along, and after much much MUCH debate (i.e.: hot button the house for months), we decided to see if we could find a better home for our Rocky.
And I am so thankful to report that we have. We have found a single young man in Ohio who has his own home. He is a friend of my parents (so it's not like we will never see him again), and is SO excited to get Rocky. In fact, his excitement about taking care of Rocky makes it so much easier to give him away. He will go to a good home. One where he will be walked and ran and played with on a regular basis. So I am happy for both this guy and Rocky. I pray the transition goes well, but in the long run, I am sure this will be a great move for all of us.
This morning was a little rough, as Marc loaded up all of Rocky's gear and finally Rocky into the car. Andrew was oblivious, Marc was doing fine since he still had the car ride with him…. but I was choked up and struggling. It will be hard the first couple times Andrew asked where he is. I really am glad we are doing this and I wouldn't change my mind if given the chance, but it was still a little sad this morning. He will be missed.

So, Stephan, take good care of my Rocky. Grab a tennis ball and you will him over in a heartbeat. May he be the great dog for you that he was for us. Love him and play with him and give him all the attention he deserves. I know he will love you for it.